When:
May 1, 2023 @ 12:15 pm – 1:30 pm
2023-05-01T12:15:00-04:00
2023-05-01T13:30:00-04:00
Where:
Hilton Garden Inn
5265 International Blvd
North Charleston, SC 29418
USA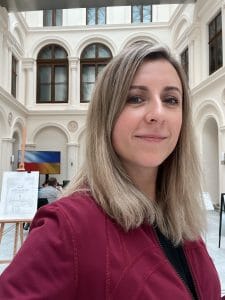 CHS4UKRAINE, a 501(c)3 nonprofit organization, started in March 2022, shortly after the full scale of Russia's invasion of Ukraine. What started as a humanitarian aid drive, organized by the owners of EuroFoods Cafe and Grocery Store, has quickly turned into a movement that united the whole City, and CHS4Ukraine was created.
We are a 100% grassroots, non-political, volunteer-led group of three board members and several volunteers.
Our board members are:
Maka Aptsiauri, the owner of EuroFoods Cafe and Grocery Store, serves as our President and Logistics Coordinator.
Kenneth Marolda, the local real estate investor, and manager, serves as a Treasurer.
Anna Spann, a licensed SC CPA and works full-time as a business valuation analyst for Kaufman Rossin & Co. Anna has two children enrolled in Charleston County Schools and she also serves as a Treasurer for the Buist Foundation. Anna is a Secretary and Logistics Coordinator for CHS4Ukraine.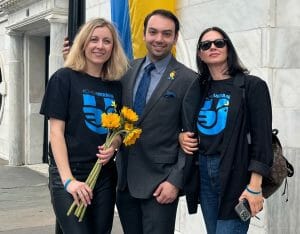 Completed Projects
-27,000 lbs of humanitarian aid shipped to Ukraine by air and sea and distributed to local hospitals and refugee centers
-13,500 lbs of tactical medical supplies were sent in suitcases via 27 couriers traveling from Charleston to Krakow, Poland, and then delivered to Ukrainian frontlines via a trusted network
-Provided financial and volunteer support to Nidaros Foundation, a refugee center in Krakow that hosts 65 women and children
-Partnered with the Association of Humanitarian Centers in Ukraine to purchase medications for elderly citizens and a center that hosted 50 Ukrainian orphans
-Hosted and provided rehabilitation support for a group of 10 Ukrainian amputee veterans who came to the States for prosthetics.
-Sponsored delivery of 50 bicycles from Germany to Kharkiv to be distributed to local volunteers to help with transportation needs for humanitarian aid distribution
-Fundraised and provided monetary support to acquire an ambulance vehicle for front-line medics to be used in evacuation missions
-Sponsored construction of cold weather shelters for homeless animals in Kharkiv

Current Projects:
– Providing monthly support for food and shelter for 45 displaced people, mostly elderly and children who currently are staying at the Dzherelo refugee center in Kharkiv, Ukraine
—Providing and distributing tactical medical tourniquets to the volunteers and medics at the front. Help us reach a goal of 1,000 tourniquets = 1,000 lives saved.