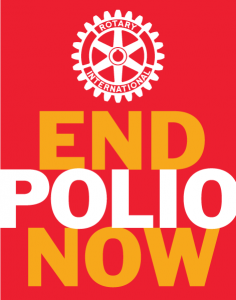 Zone 33 Polio Team:
Chuck and I want to thank all of you for your dedication and hard work during the first six months of this Rotary year and most importantly to wish each and every one of you a wonderful Holiday Season with your families and friends. We hope you get some much needed rest and relaxation during the remainder of this year and are ready to "hit the ground running" again after the new year.
Some of you have asked us some questions that I will try and briefly answer in the next few paragraphs as I am sure many of the Rotarians you work with in your districts are asking similar questions and you may be looking for assistance in formulating an answer.
We are hopeful that the African Region of the world, which includes Nigeria, can be certified free of the Wild Polio Virus early next year. The Africa Regional Certification Commission is currently visiting Africa to analyze and verify the accuracy of the documents prepared by the Nigerian Government. It is important that the Nigerian government and its partners avoid any complacency that could jeopardize its removal from the list of polio endemic countries during this process. And, authorities are quite confident that all will go well.
Afghanistan and Pakistan are still experiencing additional wild polio virus cases. So far this year Afghanistan has reported 22 cases this calendar year. 21 cases were reported in 2018. Pakistan has reported 94 cases so far this year. 12 cases were reported in 2018. Why are they reporting more cases this year than last year? Remember, there is no cure for polio. It is an incurable disease. The only way to STOP polio and prevent its spread is inoculation. Because of this fact, there are several reasons for the increase and among the most important are the following:
The inability to get into certain areas to administer the vaccine; and
The ongoing misinformation campaigns promulgated by certain factions of the population and the danger to health workers administering the vaccine caused the Pakistan government to call a halt to the administration of the vaccine for a period of time. Although we are once again administering the vaccine in some of those areas the delay caused a great increase in the number of cases.
If this sounds familiar, it should because we faced similar problems in Nigeria a few years ago. We overcame those issues in that country and we will overcome them in Afghanistan and Pakistan. But, our progress has been delayed.
Some of you have asked … "What are cVDPV cases?" cVDPV cases are circulating vaccine-derived poliovirus cases. Some of you have asked why are we seeing more of these cases now than we have in past years? The answer is simple, but not necessarily satisfying. The simple answer is that as we inoculate more of the world with the vaccine and then do increased surveillance in the areas where we have vaccinated we discover more cVDPV cases. cVDPV cases originate from the oral vaccine that is the primary vaccine used by Rotary and its partners. But, I think it is also important to realize worldwide over the past 10 years over 10 billion doses of the oral polio vaccine have been administered to 2.5 billion children and as a result 3.5 million cases of polio have been prevented. And, during that time ONLY 776 cVDPV cases have occurred. Also, these outbreaks can be rapidly stopped with the administration of the injectable vaccine.
When you look at the attached progress chart you will note that of our 17 districts … 14 have transferred DDF from their district's yearly allocation to PolioPlus. Thank you very much!! Of those 14 districts … 9 have transferred at least 20% of their yearly allocation. Put another way… our goal is to raise $707,996 from our districts in DDF transfers to PolioPlus this calendar year. That amount is 20% of each of our districts DDF allocation for this year. We are half way through this Rotary year and we have had $458,826 transferred. Therefore, we have transferred, thus far, more than 50% of our goal during the first half of the Rotary year. Again, thank you … but we need the support of ALL districts to meet our goal.
Our goal for cash contributions from the Rotary clubs in each of our districts is a minimum of a $1,500 average from the clubs in our districts. Thus far we are averaging $644. That figure is less than where we need to be and I know that we can increase the average amount during the first few months of the new year. The figures do not show it yet but I want to thank the Greenville Rotary Club in D7720 for giving PolioPlus a $10,000 contribution as part of their 100th anniversary celebration this past week.
On a very positive note … our Zone goal for total PolioPlus giving (cash and DDF transfers) for this Rotary year is $2M. On December 17th a few days less than six months through the Rotary year … our Zone's total "Polio giving" stands at $1,081,276. We are a little more than half way there… Again, thank you very much!!!
You are a great team and Chuck and I are most grateful to be able to work with you. Again, we hope you all have a very joyous holiday season…..
Rocky Jacobs & Chuck Davidson,
Zone 33 End Polio Now Coordinators
---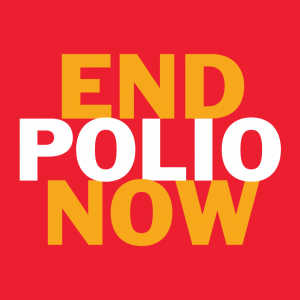 Here are the current Wild Polio Cases as of October 9, 2019:
Total Wild Polio Cases in 2019: 88
Total Wild Polio Cases in 2018: 33
Afghanistan: 16 cases in 2019 (compared with 15 for the same period in 2018)
Pakistan: 72 cases in 2019 (compared with 4 for the same period in 2018)
---
October is Polio Month in our District:
$25,000 DDF Challenge – If Clubs raise at least $25,000 for Polio during October our District will contribute $25,000 DDF to fight Polio and thanks to Matches from our Foundation's World Fund and the Gates Foundation, that $25,000 will turn into $150,000!!!. Club contributions MUST be sent to our Rotary Foundation during October! NO Club Confirmation Form is required (Foundation MCR will be used to track contributions).
World Polio Day Carnival, Thursday, October 24, 2019:
Segra Ball Park in Columbia, SC (11:00am to 2:00pm)
Event to create awareness for Rotary's fight against polio. There will be food, beer tasting, games, prizes and fun. Free Admission.
Everyone is invited: Rotarians, Family, Friends & Neighbors.
See attachments for more information including a Press/News Release & Sample World Polio Day Proclamation.
In 1985 Rotarians made a promise to the children of the world to eradicate Polio from the face of the earth… We keep our promises! Thank You to all Rotarians for your continued support to eradicate this terrible disease,
Bernie
End Polio Now Chair
District 7770
The Rotary Foundation supports the efforts of Rotary International to achieve world understanding and peace through international humanitarian, educational, and cultural exchange programs. It is supported solely by voluntary contributions from Rotarians and friends of the Foundation who share its vision of a better world.
Congratulations to our recently recognized Major Donors; Mr. & Mrs. John Snowden, Mr. & Mrs. Al Stoll and Mr. and Mrs. Joe Schady. 
They are being recognized by our District Governor (7770), Johnny Moore. During his conversation as guest speaker, he reiterated the need to share with others what Rotary accomplishes in our communities around the world as a way to increase our ranks and expand our base.