Aug
22
Mon
MEETING – Frank Lapsley, General Manager, North Charleston Coliseum Complex

@ Hilton Garden Inn
Aug 22 @ 12:15 pm – 1:30 pm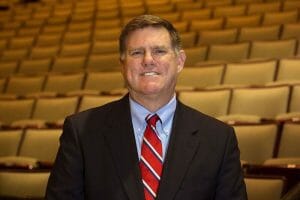 Frank Lapsley is the General Manager of the North Charleston Coliseum Complex that includes the Coliseum, Performing Arts Center and the Greater Charleston Convention Center, the new 2,500 space parking garage and City offices for parking staff & the South Carolina Stingrays. He oversees the day to day operations that included marketing, booking, operating and maintaining the facilities that make up the campus. He assumed the role in December 2015. Prior to North Charleston, he spent 11 years overseeing the Cabarrus Arena & Event Center complex outside of Charlotte, NC.
Frank is a native of Boston, MA and grew up on Cape Cod. He attended the University of Massachusetts at Amherst and graduated with a degree in Sports Management focusing on facility management.
He is employed by ASM Global, the Philadelphia based sports & entertainment facility management company that oversees 300+ stadium, arena, theater & convention centers throughout the US and internationally. He has been with ASM for 17 years.
Frank has been on the pre-opening and opening management teams for several arena and stadium projects across the country. One of those projects included the North Charleston Coliseum 30 years ago.
Frank is engaged professionally and civically through his involvement with several organizations including the Board of Governors / Directors for the Charleston Convention & Visitors Bureau, the Charleston Sports Commission, Joint Base Charleston, the Lowcountry Food Bank, Cooper River Bridge Run as well as a catechist for more than 10 years teaching confirmation in the Catholic Church.
Frank and his wife, Joelle live in Mt Pleasant, SC with their two children, Declan & Gage Elizabeth.