When:
January 31, 2022 @ 12:15 pm – 1:30 pm
2022-01-31T12:15:00-05:00
2022-01-31T13:30:00-05:00
Where:
Hilton Garden Inn
5265 International Blvd
North Charleston, SC 29418
USA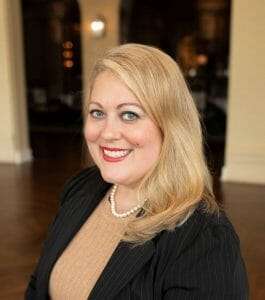 With more than 25 years of fundraising and public relations experience, Kimberly Farfone Borts is currently the Director of Charitable Giving and Communications at Bishop Gadsden Episcopal Retirement Community; one of the country's premier Life Plan Communities.
Since joining Bishop Gadsden in 2007, Kimberly has increased overall support of Bishop Gadsden's Charitable Mission, including growing their planned giving support by more than 30%. As a member of the Bishop Gadsden leadership team, Kimberly works on strategic and development projects impacting the entire community. A creative professional at heart, Kimberly enjoys overseeing the branding, social media, PR, and communications of Bishop Gadsden and utilizing her interior design talents when needed in the Bishop Gadsden Community.
Before Bishop Gadsden, Kimberly had a six-year tenure as Development Director for Sea Island Habitat for Humanity, where she contributed to the success of being named the Habitat for Humanity Affiliate of the Year two times. Before moving to Charleston in 2001, Kimberly was in Washington, DC, where she was the Foundation Manager for the National Business Travel Association and began her career as a Junior Lobbyist for Jefferson Government Relations.
A graduate and former Student Body President of George Mason University, Kimberly earned her Bachelor of Arts in Government & Politics, received her Certificate in Business Management from The Wharton School of Business, a certificate in Events Management from George Washington University, and her Certificate in Fundraising Management from Indiana University's School of Philanthropy.
Kimberly has also served in various board and leadership roles for community non-profit organizations. Kimberly was a Roper Fellow and was selected as The Roper Fellow Chair for the Roper St. Francis Healthcare System. She served four terms on the board of Sea Island Habitat for Humanity, being elected as Chair of the Board for two terms, and now rejoining the board in 2021. Kimberly has been a two-time Past President of the Charleston Chi Omega Alumnae Fraternity, and past Board Member for the South Carolina Planned Giving Council. Currently, Kimberly is a Board Member for the Lowcountry Association of Fundraising Professionals, as well as Vantage Point Foundation, and LeadingAge South Carolina.
Kimberly is married to Gregory Borts, a law enforcement officer, and they currently live on Johns Island, South Carolina.