When:
August 2, 2021 @ 12:15 pm – 1:30 pm
2021-08-02T12:15:00-04:00
2021-08-02T13:30:00-04:00
Where:
Hilton Garden Inn
5265 International Blvd
North Charleston, SC 29418
USA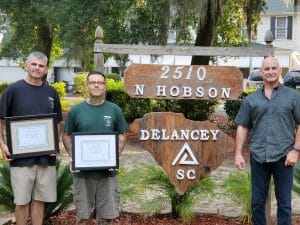 Marcus has been in Delancey Street since December of 2015, and transferred here to our South Carolina house from our New Mexico facility. He works in our supply and legal departments as well as being our CDL instructor.
Delancey Street is a non-profit, self-help organization for about 1500 drug addicts, alcoholics, ex-convicts, and others whose lives have hit bottom. In this community, residents learn to care for others, develop values, self-reliance, gain some dignity for themselves, learn occupational skills, get an education, and earn a sense of self-worth so they can ulti- mately graduate from Delancey Street and make a legitimate and successful life in society. San Francisco is the head- quarters with 500 residents; the other facilities are in Los Angeles, New Mexico, North Carolina, New York, and South Carolina.
Delancey Street is primarily a self-supporting, self-governing community, maintained entirely by the men and women who come to Delancey Street for help; representing all racial, cultural, and socio-economic groups. Many residents come into Delancey Street upon referral from an agency of the criminal justice system. Interviews are conducted by other residents of Delancey Street who have been here long enough to understand Delancey Street's values. Interviews are conducted on Delancey Street premises as well as in selected jails and prisons. It is important to tell the whole truth in your interview. Since we live as an extended family, we come to know all about each other; admitting the truth about our lives and situations begins the process of change at Delancey Street, anyone caught lying in their interview will be asked to leave. New residents are asked to make a two-year commitment because we believe that is the mini- mum time required to really turn a life completely around which has spent years developing self-destructive patterns. The stay at Delancey Street is disciplined, serious business.