When:
August 8, 2022 @ 12:15 pm – 1:30 pm
2022-08-08T12:15:00-04:00
2022-08-08T13:30:00-04:00
Where:
Hilton Garden Inn
5265 International Blvd
North Charleston, SC 29418
USA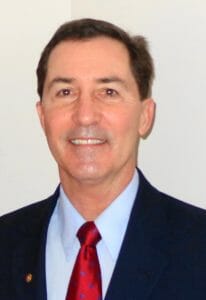 Lou is a graduate of the Ohio State University and taught high school and coached football and basketball prior to entering the Ocean Transportation Industry.
Lou and his wife Teresa have lived in Mt Pleasant since April of 1999 and he joined Rotary in August 1999.
Lou has served as District Governor in 2013-2014 and has served as an Assistant Governor, Foundation Advocate, and District 7770 Paul Harris Society Chair. Lou has also served as Zone 33 PHS Coordinator. Lou has also served as District 7770 Foundation Chair 2014-2017 and District Council on Legislation Representative 2017-2020.
Lou is the District Rotary Youth Exchange Chair and has served on the District Committee since 2013-2014. Lou has also chaired the District 7770 Ambassadorial Global Scholar Committee for 6 years.
Lou has also served as Zone Institute GETS Trainer in 2015-16 and DGN Trainer in 2014-15.
Lou is a Foundation Major Donor Level 3 and Bequest Society Level 4 and a Paul Harris Society Charter Member in District 7770.
Lou received the Foundation's Citation for Meritorious Service in 2007-2008 and was recognized as 2010-2011 Rotarian of the Year in District 7770.
Lou attended his 13th Rotary International Convention in Taiwan in June 2021. Done Virtually.
Lou is serving as Vice Governor in the 2021-2022 year and hopes fervently that DG Paul is happy and healthy the entire year.
Lou will also serve as the District Global Grants Chair starting in 2022-2023.
Lou and Teresa love boating and travel and they have done 34 ocean and river cruises. Travelling internationally gives one an amazing perspective on people around the world, everyone is pretty much the same and wants the same things in life.